Mycrobiome Prebiotic
Regular price
Sale price
$29.99 USD
Unit price
per
Sale
Sold out
Innovative prebiotic blends with resistant starch to support digestive wellness, butyric acid production, and a healthy gut barrier*
Crafted with clinically backed ingredients including MyceliaGI®, studied to support butyric acid production*
Non-bloating formulas without inulin or FOS for digestive comfort; designed as low-FODMAP products*
No added sugars (citrus is sweetened with organic monk fruit)
Non-gritty powder dissolves easily in water or any beverage
Ingredients

Citrus:
Potatodaat®, MyceliaGI® Mushroom Blend, Natural Mandarin Orange flavor with other natural flavors, Citric Acid, and Himalayan Pink Salt.

Unflavored:
Potatodaat®, Organic Baobab Fruit Powder (FIBRISS™), MyceliaGI® Mushroom Blend, STARMERIC® Turmeric, and Organic Fermented Ginger.
Directions

Use only as directed. Mix 1 scoop with 8 Fl. oz. of water or beverage of choice daily. Dissolves easily. Store in a cool, dry place.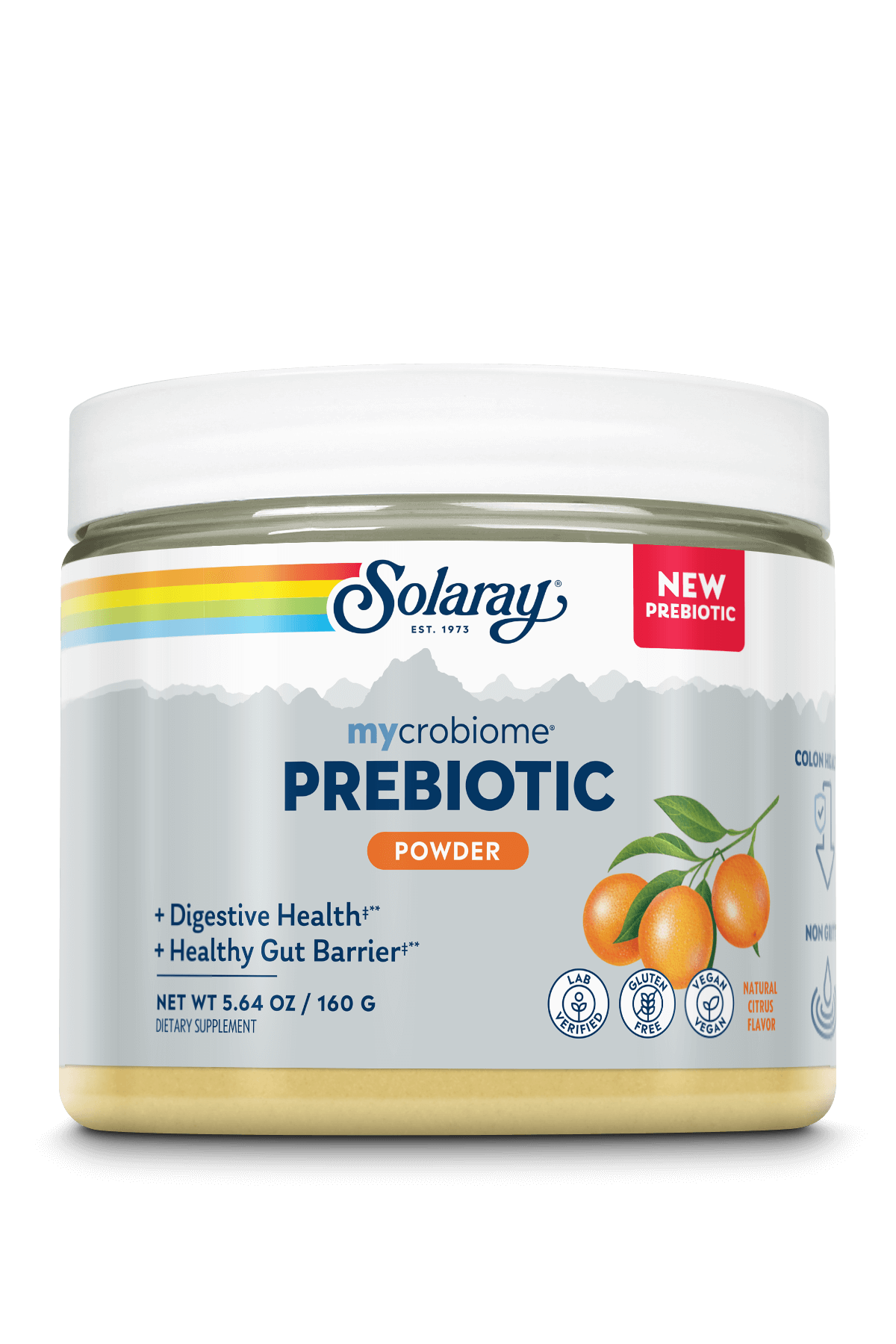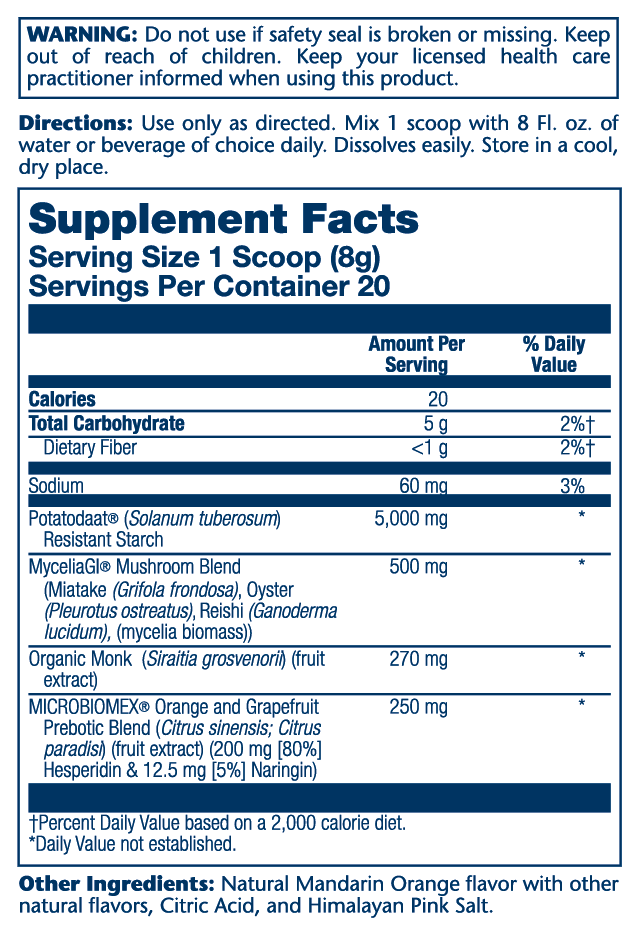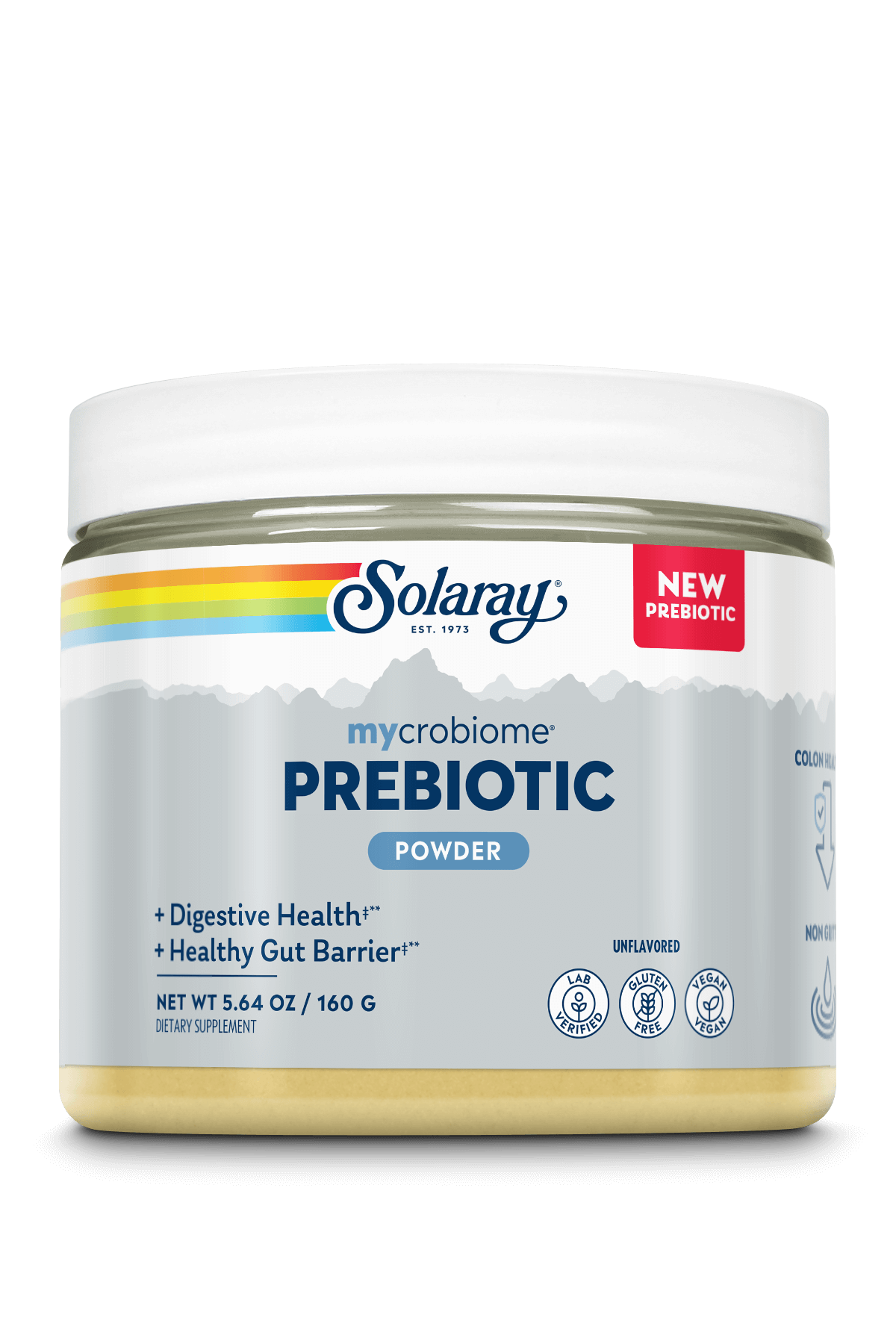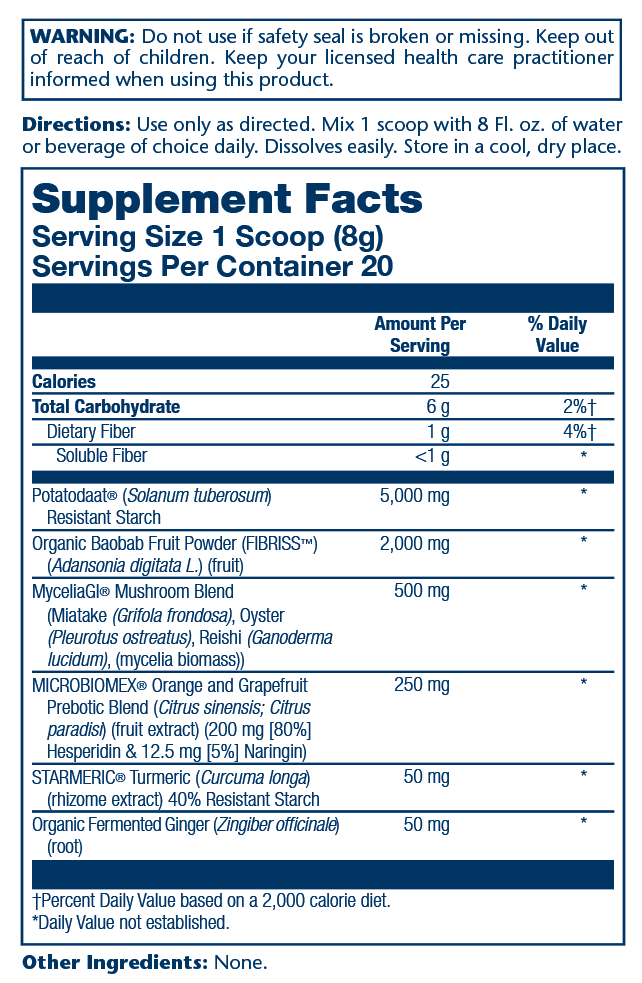 Probiotics Need to Thrive.
A powerful addition to your gut health routine—for comprehensive digestive support*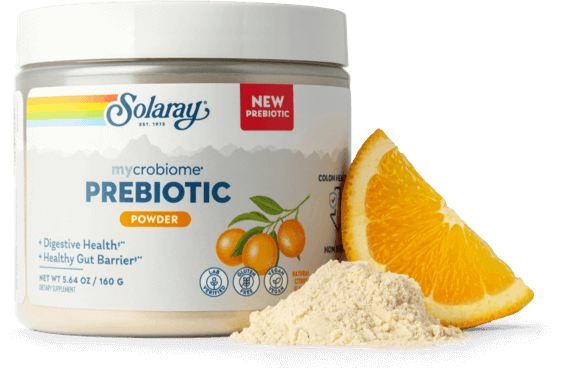 Enhance Your Gut Routine.
For a complete digestive support regimen alongside your favorite Solaray probiotic, add in Mycrobiome™ Prebiotic Powder—in citrus or unflavored. Prebiotics are specialized plant fibers that act as a source of food for probiotics so they can thrive. These fibers are also involved in the formation of butyric acid, which plays a role in several bodily processes, including helping strengthen your intestinal lining.† A strong lining allows beneficial vitamins and minerals to leave the gut and enter the bloodstream while keeping potentially harmful compounds out.*
Expert Blends.
Our prebiotic powders are designed to support overall colon and digestive health as well as butyric acid production to promote a healthy gut barrier.*† They're crafted with scientifically backed ingredients you can count on including MyceliaGI®, a proprietary blend of organic reishi, maitake, and oyster mushrooms shown to increase butyric acid levels, along with clinically studied MICROBIOMEX® and Potatodaat®.*‡ The unflavored formula also features STARMERIC® turmeric, FIBRISS™ baobab, and fermented ginger for additional support.‡
Your Lifestyle. Your Wellness.
The citrus powder is made with a delicious natural orange flavor and monk fruit for sweetness—no added sugars—while our unflavored option is crafted without added sugars or flavors. Both are non-gritty and dissolve easily in water or your beverage of choice. Plus, they're specially formulated to be gentle on your stomach and non-bloating, and are gluten-free, vegan, keto-friendly, and made without soy.
Before You Probiotic, Prebiotic.
Our new Mycrobiome Prebiotic Powder mixes easily into your favorite beverage of choice so you can feed your probiotics and nourish your gut.*